Vincent Ceraudo (Alum NYC '19) opens 'Même si c'est la nuit | Even if it's at night' as part of Art Rotterdam, represented by Amsterdam's van Zijll Langhout Contemporary Art.
The work of Vincent Ceraudo ranges from videos installations to films, incorporating photographs, writings, installations and performances. At the very heart of his practice occurs the fascination of man for transcendence, his desire to temporarily escape the influence of the body and the real. As an attempt to probe these experiences of reaching inaccessible worlds, he tries through various technologies to question perception and it's acceptable boundaries.
How these moments can be shared and communicated?

Is language a sufficient tool to report these flux of thoughts?

Is our imaginary life as important than the one we are living in the real world?
Concerned by facts that are simply excluded from our conception of reality, he does think they probably belong to some different worlds, or even to some unknown to us. By navigating through forms and practices appearing at the crossroads of fringe-science, anthropology, architecture, but also the confluence between human consciousness and technology, or whether history of colonialism and modernity, the line of enquiry of his research is calling into question the constructs of rationalism, culture, and capitalism.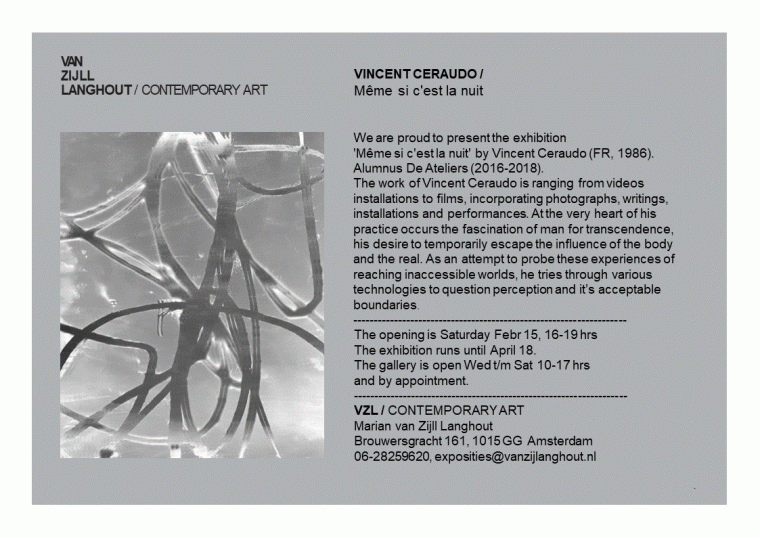 In the exhibition a new body of works that relates together this question of transcendence. For this, he will show different aspect of his practice through various media as one main installation. By relating the photographic process itself with the concept of projection, Liminality (2017- 2020) is a series of photograms made by trying to induce an Out Of Body Experience to the photographic negative itself. Or by using the point of view of the drone to explore a modernist construction from rationalist architect Giuseppe Terragni, with the video From There We Came Outside And We Saw the Stars (2019). Or whether by taking the plots between the beginning of cinema and electricity The Projectionist (2020), a brand new sculptural works he is actually developing inspired by the story of a mysterious French engineer who had extrasensory abilities during his journey in Shanghai in the 1930's. The exhibition is an attempt to convey this moments of transcendence to affect the viewer.
Information via. van Zijll Langhout
Information
Opening: 15th February 16:00-19:00
Runs: 15th February – 18th April 2020
Van Zijll Langhout / Contemporary Art
Brouwersgracht 161
1015 GG, Amsterdam
Vincent graduated from Villa Arson, Nice, FR and Skowhegan School of painting and Sculpture, Maine, USA before completing the post-graduate residency at the prestigious De Ateliers in Amsterdam.